Xlerator Hand Dryer
XLerator Hand Dryer Spare Parts
Ref. #

XL 1




XL2

XL3
XL4
XL5

XL6
XL7

XL8


XL9



XL10
XL11
XL12
XL13
XL14
XL15





> > >
>
> xlerator spare parts
Description - Refer to diagram on reverse side

Cover - White (includes Nameplate)
Cover - Chrome (includes Nameplate)
Cover - Graphite (includes Nameplate)
Cover - BMC (includes Nameplate)
Cover - Stainless (includes Nameplate)
Nameplate XLERATOR®
Nameplate XLERATOR® - Without Excel Dryer
Tamper proof Bolt
Tamper proof Wrench
Air Outlet Assembly - Nozzle (includes gasket #34 & screws )
Air Outlet Assembly - Nozzle 1.1 diameter (includes gasket #34 & screws )
Terminal Block with Screws and Tabs
Control Assembly & Sensor 110/120V (includes XL15 and mounting bracket )
Control Assembly & Sensor 208/277V (includes XL15 and mounting bracket )
Heating Element Assembly 110/120V (includes gasket and screws)
Heating Element Assembly 220/240V (includes gasket and screws)
Heating Element Assembly 208V (includes gasket and screws)
Motor Assembly 120V (includes gaskets & wire harness)
Motor Assembly 208/240V and 277V (includes gaskets & wire harness)
Motor Brush 110V - Each (including sleeve)
Motor Brush 220V - Each (including sleeve)
Wall Plate Assembly (includes cover mounting brackets)
Cover Mounting Brackets - Set of 2
Housing Grommet (rubber) - Set of 4
Housing Retainer - Set of 4 (includes screws)
Recess Kit (for ADA compliance) - No Discount
Optics only (sensor) for Control Assembly
Blower/Motor Complete 110/120V (includes all except wall plate/cover)
Blower/Motor Complete 208V (includes all except wall plate/cover)
Blower/Motor Complete 220/240V (includes all except wall plate/cover)
Air Inlet Cover (includes screws)
Fuse (110V only - early versions) 6.25 Amp
Fuse Holder (110V only - early versions only)
110V Sub Assembly on Wall Plate - 1400L for 1.1 Nozzle
220/240V Sub Assembly on Wall Plate - 1401L for 1.1 Nozzle
208V Sub Assembly on Wall Plate - 1402L for 1.1 Nozzle

Stock #

XL-1064
XL-1065
XL-1066
XL-1067
XL-1068
XL-60
XL-61
XL-626
XL-630
XL-62
XL-62.2
XL-40040
XL-40100
XL-40101
XL-40000
XL-40001
XL-40002
XL-40300
XL-40301
XL-295
XL-296
XL-40400
XL-12
XL-36
XL-14
XL-40501
XL-30083
XL-40200
XL-40201
XL-40202
XL-26
XL-29.6
XL-29.8
XL-1400
XL-1401
XL-1402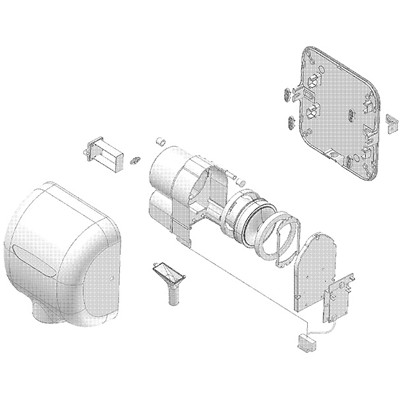 XLERATOR Hand Dryer
: spare parts list
The Xlerator Hand Dryer is covered by a 3 year warranty. This warranty is parts only. The parts will be despatched direct to you at no cost providing we can verify the age of the hand dryer by its serial number.

Only parts that have become defective through normal use are covered by the warranty.

We can also supply spare parts and carry out repairs to faulty Xlerator hand dryers that are out of warranty.

Troubleshooting the Xlerator Hand Dryer

Hand Dryer not starting :

Sensor defective - supplied as pcb complete with sensor

Slow air speed, grinding or scraping noise in operation :

Fan motor defective

No hot air :

Heating element defective

Burning smell :

Either heating element or fan motor defective. Normally defective fan will be accompanied by either a unusual noise or slowed air output

Downloads : (open in a new window)

» Replace xlerator fan motor PDF Document '.pdf''
» Replace xlerator pcb sensor PDF Document '.pdf'
» Replace xlerator heating element PDF Document '.pdf''