Washroom Hygiene Monitor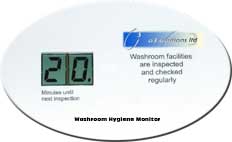 The Washroom Hygiene Monitor offers visual reassurance to customers and acts as a prompt for cleaning staff.

A battery-operated wall-mounted digital countdown clearly indicates when the facilities were last cleaned, and when the next inspection / cleaning is due, resettable with a magnetic 'wand'.

Regularly checked facilities ensure that customers always find your facilities the way you would like them to find them.

With the Washroom Hygiene Monitor you can be certain that your customers will feel comfortable in the knowledge that they will always find your facilities in the optimum condition.
The 'SaniSeat' Toilet Seat Sanitiser provides the individual with the opportunity to clean the seat effectively before use.

Even toilet seats that seem clean can be heavily contaminated with bacteria.
The SaniSeat is used to spray a quick-drying chemical onto tissue to wipe the toilet seat, providing extra piece of mind.

Also available in handy, flushable, bactericidal impregnated wipes.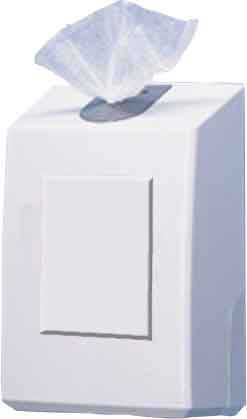 Toilet Seat Cleaners / Sanitisers
WC Sanitisers

WC sanitiser release a dose of chemical cleanser, or organic bactericidal odour removing liquids to clean, deodourise and sanitise the wc bowl on every flush. This removes the need for 'toilet ducks' or other cleaning chemicals in the toilet bowl and automatically cleans the toilet.
We can provide for a range of product dispensers. We have selected the best suppliers for our range of dispensers from Laboratoires Prodene Klint in France for our cosmetic, dermotalogical and bactericidal soaps range along with local supliers.

We can provide direct fill soaps, cartridge fill soaps for ranges : Softcare, Deb, Kennedy, Brighwell...

Tissue : bulk pack toilet tissue (unbranded, kimberley clark and other brands), mini jumbo toilet roll, Lotus Smart One, Coreless, Lotus Compact Coreless, standard household sized toilet rolls (48 pack, 320 sheet)

hand Towel, C Fold, Z Fold, M Fold, blue or white, 1 or 2 ply, standard and luxury, towel rolls, enmotion, bay west,

centrefeed rolls, lotus, other brands


Washroom Consumables