AirJet Hand Dryer
Aertek AirJet High Speed Low Energy Hand Dryer
h287 x w205 x d180 (mm)
5.8kg
230V, 50Hz
3.5A-7A @ 230V
800-1600W
10-12 seconds
12000-18000 rpm
224 mph

70dB @ 1m

IPX1
5 years
Aertek AirJet Hand Dryer Specifications:

Dimensions :
Weight :
Electricity Supply :
Current Consumption :
Nominal Output :
Drying Time :
Motor Speed :
Air Speed :
Air Volume :
Noise Level :
Standby Power :
Electrical Protection :
Warranty :
Aertek AirJet High Speed Hand Dryer
The AirJet is a high-speed, low-energy hand dryer.

It scores high in the hand dryer green rating scheme due to its quick drying time and low power consumption.
It has an optional heating element and adjustable motor fan speed.

The AirJet shines a bright blue LED onto the users hands.
Available in polished chrome, satin stainless steel, white porcelain enamel.

5 Year Warranty

The Premium AirJet High Speed Hand Dryers are Energy Efficient. AirJet Dry Hands twice as fast as most other high powered hand dryers offering up to 70% energy savings compared to some conventional hand dryers.


The unique design boosts a range of additional features which make the product suitable for almost any application. The heater elements can be set to between 450 and 900 W, enabling the unit to be used in a variety of washroom applications from schools to construction sites. Another feature is the blue led which provides a visible indication of the drying zone ensuring that the userís hands are always in the warm air stream.


Ideal for sports centres, pubs, restaurants, hotels and airports. They are solid, robust and stylish and come with a 5 year warranty.


The AirJet hand dryer has an indicator LED on the front of the the hand dryer and shines a blue light on your hands when hand drying is in operation.


The AirJet warm air, high speed, low energy hand dryers are more energy efficient, promote cost savings, improve hygiene, are environmentally friendly and are easy to maintain.

AirJet Hand Dryer is also available as a recessed model with incorporated drip tray.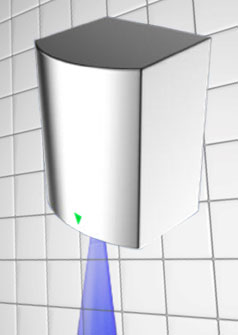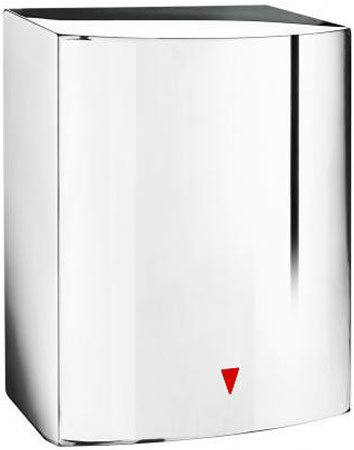 AHD-AJW
AHD-AJC
Downloads : (open in a new window)

»
Brochure PDF Document '.pdf'

»
Installation Template jpg Document

3.8
AHD-AJS