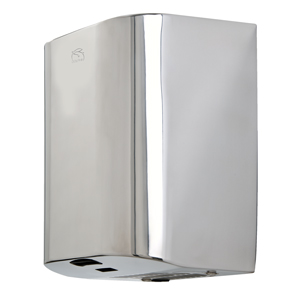 BC2001 / BC2001B Dolphin Velocity High Speed Hand Dryer
Features

•
Quality stainless steel body with all metal back plate for excellent vandal resistance

•
Very low energy usage (see table below) saving 70% or more of user's energy costs

•
Infra red self adjusting sensor

•
Heater on/off switch and adjustable airflow giving the potential for even greater energy savings

•
Dries hands in only 10-12 seconds with heater and full speed - reducing CO2 emissions drastically

•
Outlet temperature 60ºC (140ºF) at 25ºC (77ºF) ambient temperature with heater on and dryer at full speed

•
Five year limited warranty

•
IPX1 rated

•
Class 1 rated isolation

•
Average Reuse Rate under WEEE Directive: 72%

•
Average Recovery Rate under WEEE Directive: 95%

•
Also available in white metal, see here

•
Ska compliant product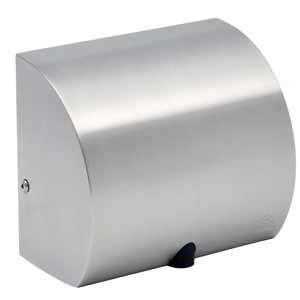 BC2002 Dolphin Velocity Eco Hand Dryer
Features

•Quality stainless steel body with all metal back plate for excellent vandal resistance
•White metal version also available, see BC2002W
•Very low operating power (see table below) saving 80% or more of user's energy costs
•Infra red self adjusting sensor
•Heater on/off switch and adjustable airflow giving the potential for even greater energy savings
•Dries hands in only 12-15 seconds with heater and full speed - reducing CO2 emissions drastically
•Greenspec listed product
•Outlet temperature 55ºC (131ºF) at 25ºC (77ºF) ambient temperature with heater on and dryer at full speed
•Three year limited warranty
•IPX1 rated
•Class 1 rated isolation
•Average Reuse Rate under WEEE Directive: 78%
•Average Recovery Rate under WEEE Directive: 96%
•SKA compliant product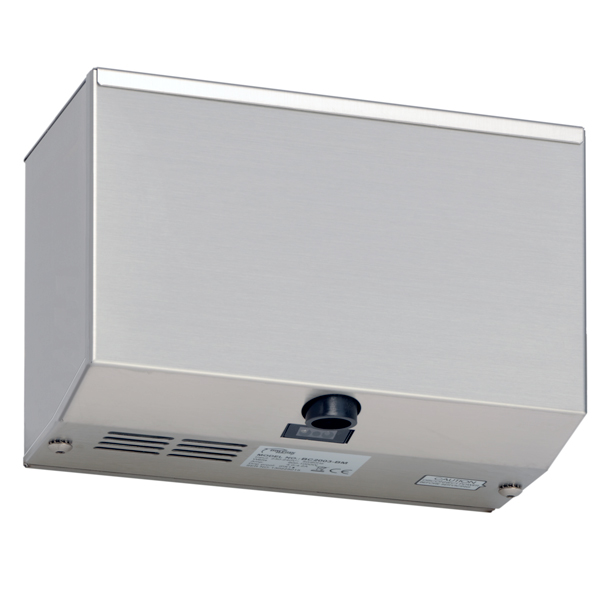 BC2003-BM Dolphin Velocity Behind Mirror Hand Dryer
Features

•High speed low energy hand dryer
•Dries hands in 13 seconds reducing the CO2 emissions
•Rated power: 1,000w, 6.5A
•Operating power of only 1,000w (500w heating element) - saving 80% of user's energy costs
•Infra-red, self adjusting sensor
•Sound level of 75db at 1 metre
•IPX14 rated
•Class 1 rated isolation
•Dryer delivers 101.7m3/hour (90m/s).
•29,000 rpm brush motor
•55ºC air output temperature
•Three year limited warranty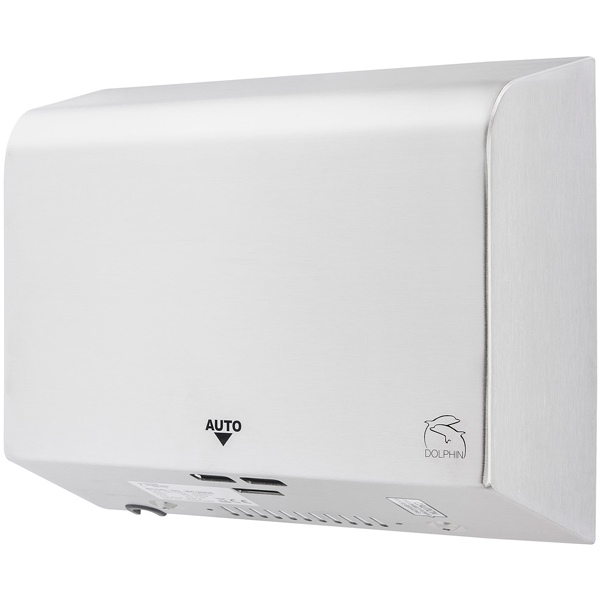 BC2005 Dolphin Velocity Slimline Eco Hand Dryer
Features


•
Quality stainless steel body with all metal back plate for excellent vandal resistance

•
Only 100mm depth of body reducing impact in the washroom and complying with the ADA Disability Act

•
Very low operating power (see table below) saving 80% or more of user's energy costs against conventional hand dryers

•
Less than 0.5W stand-by power

•
Infra-red self-adjusting sensor with additional manual adjustment

•
Heater on/off switch and adjustable airflow giving the potential for even greater energy savings (see table below)

•
Dries hands in under 15 seconds with heater on at full speed - reducing CO2 emissions drastically!

•
Outlet temperature 55ºC (131ºF) at 25ºC (77ºF) ambient temperature with heater on and at full speed

•
Three year limited warranty

•
IP24 rated - very high IP rating for a hand dryer rendering it suitable for use in mental health institutes

•
Class 1 rated isolation

•
Average Reuse Rate under WEEE Directive: 78%

•
Average Recovery Rate under WEEE Directive: 96%

•
Ska compliant product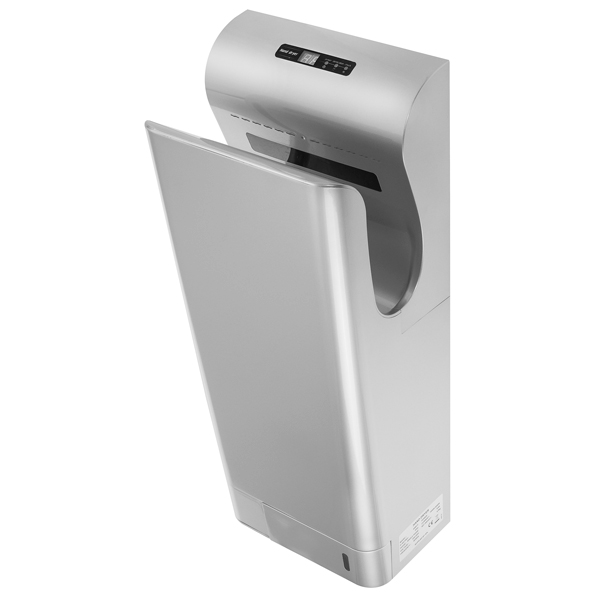 Features

•99.9% HEPA filter
•Dries hands down to 10 seconds
•Built in tamper proof timer function with visible LED indicator
•Two speeds and three heat settings
•GS approved
•Lo-Carbon DC Motor, 750W - 2050W
•Air speed 95m/s
•Blue 'dry zone' indicator
•Antibacterial coating & dust filter
•Heater Element 900-1300W, Hi / Lo and Off
•Weight 9.5kg
•IPX4 Rated
•Power: 1650 - 2050 w
•Current 8.6A
•Voltage 220-240v 50/60Hz
•Sound level: 75dB(A) at 1m
•With integral drip tray
BC2012 Dolphin Velocity Hand Dryer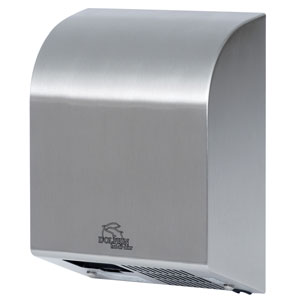 Features

•Stylish design
•Tough stainless steel cover for strength and durability
•Superior technical design - dual thermal overload protection on motor & heating element
•Certification of Compliance to foremost international Safety standards (CE& UL) & performance standards(UL)
•No touch' operation by electronic infra-red sensor maximises hygiene and economy of operation
•Infra-red sensor
•Fully automatic operation - switches off within 3 seconds of hand removal.
•200w induction motor
•2100w heating element
•5 year manufacturer's warranty
•ROHS Compliant
•Warm air output of 314.5m3/hr (185CFM)
•Only 73db ± 3 metre
•7500rpm brush motor with dual ball bearings
•1.5mm thick stainless steel - very tough design
•IPX1 Class 1 rated isolation
•Air Speed: 24 m/s (54 mph)
BC2201SS Dolphin Hot Air Hand Dryer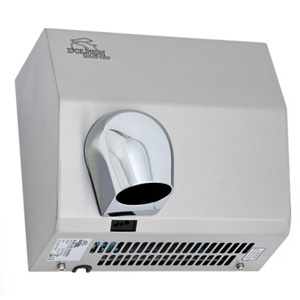 Features

•Quality hot air dryer
•Casing: Stainless Steel 304; 1.2mm thick
•Brush motor: 2400W, 5,500rpm
•Designed with 105C (221F) thermostat
•Heater assembly: Designed with 65C (149?F) thermostat
•Dryer delivers 345 m3/h (202 CFM)
•Sound level: 70 ± 3 db
•Approximately 20-25 seconds drying time
•Adjustable sensitive distance of sensor from 10 to 30cm
•Power cut-off automatically in case of irregular use over 120 seconds
•2 vandal proof lock screws and key wrench
•IPX1 Class 1 rated isolation
•Nozzle: Chrome plated zinc
•Five year manufacturer's warranty
•Air Speed: 28 m/s (63 mph)
•Approximately 20-25 second dry time
BC2400SA Dolphin Hot Air Dryer

Background image loading ...