EcoBlade Hand Dryer
EcoBlade New Generation Hand Dryer
H685 x w300 x d220(mm)
220-240V, 50Hz

750 - 1850W
Approx 11 seconds

76dB at 1metre


3 Year Warranty *
Downloads : (open in a new window)


»
Brochure PDF Document '.pdf'
EcoBlade Blade Hand Dryer Specifications:

Dimensions :
Electricity Supply :
Current Consumption :
Nominal Output :
Drying Time :
Motor Speed :
Noise Level :
Standby Power :

Warranty :

3.5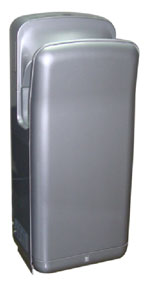 The EcoBlade is a 'hands-in' style hand dryer with double-sided blades of 212mph jet air which remove water from both sides of your hands quickly and effectively.

The hand-drying area is illuminated by low energy blue LEDs.

Anti-bacterial coating and dust filter.

3 year warranty.