World Dryer SMARTdri
World Dryer SMARTdri High Speed Low Energy Hand Dryer
h319 x w236 x d192 (mm)
5.2kg
220-240V, 50Hz
1.7A-5A @ 230V
425-850 W
10-15 seconds
12000 rpm
237 mph

85 dB

IP24
5 years - full on-site
Downloads : (open in a new window)


»
Brochure PDF Document '.pdf'

»
Tech Specs PDF Document '.pdf'
SMARTdri Hand Dryer
Designed by World Dryer Corporation, the world leaders in hand dryers for over 60 years, the SMARTdri hand dryer uses just 0.8kW, and with a high speed motor, it dries hands in just 10 seconds.

This makes the SMARTdri the most energy efficient hand dryer in its range on the market, using 90% less energy than traditional dryers.

Made from a die-cast aluminium cover, the SMARtdri hand dryer is sturdy and long lasting. SMARTdri is available in white and polished chrome finishes to suit any discerning, demanding and high use washroom environment.

5 Year On-Site Warranty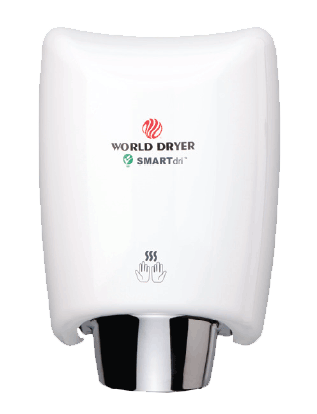 AHD-SDw
SMARTdri™ is the most energy efficient, fastest and hygienic hand dryer. SMARTdri is "best of the best" and designed to optimize dry time, energy consumption and sound quality. The intelligent, flexible controls allow customizing air flow, sound quality and heating options to fit any application environment.

SMARTdri is the latest in product development from World Dryer, the leading name in hand dryers, and is a completely flexible, personalised solution which allows the end-user to decide how much power they want their dryer to use.

With a choice of power outputs at 850W, 600W and 425W, plus the option of having the heating element on or off, users can decide exactly how much energy they want to save, although with a maximum power output of just 1250W, the SMARTdri is extremely low energy anyway!

SMARTdri uses up to 83% less energy than traditional hand dryers - and against other competitive low energy dryers it also performs well, using up to 73% less energy.

As you would expect from World Dryer, reliability and longevity come as standard, and the SMARTdri comes with a 5 year on-site guarantee for ultimate peace of mind, unlike other low energy hand dryers. SMARTdri also has a replaceable, washable air filter which reduces fluff and other debris entering the motor by around 95%.

SMARTdri comes in both white and polished chrome finishes to complement every washroom. It also features SteriTouch antibacterial surface protection on both the cover and airflow path of the white unit, and on the airflow path of the chrome dryer.

Best of all, SMARTdri requires no ongoing maintenance or complicated cleaning routines which take up the time of your cleaners - it really is the complete solution.
World Dryer SMARTdri Specifications:

Dimensions :
Weight :
Electricity Supply :
Current Consumption :
Nominal Output :
Drying Time :
Motor Speed :
Air Speed :
Air Volume :
Noise Level :
Standby Power :
Electrical Protection :
Warranty :

4.3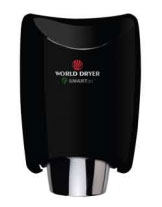 AHD-SDb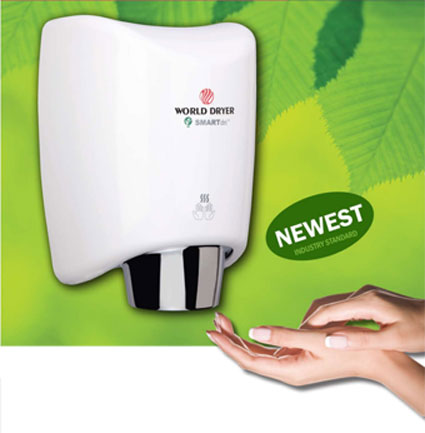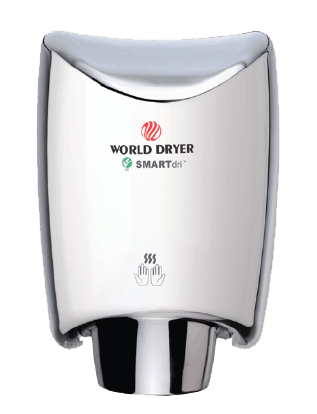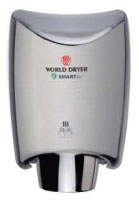 AHD-SDc
AHD-SDs
AHD-SDc
AHD-SDc
AHD-SDw
AHD-SDb
Polished Chrome
Satin Chrome
White
Black
K48-970
K48-971
K48-974
K48-162
16412801
BC0523
16412400
BC0353