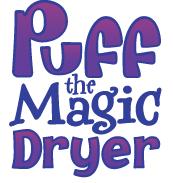 Puff the Magic Dryer
Puff the Magic Dryer - Child friendly hand-dryer
The first hand dryer designed with children in mind.

Puff the Magic Dryer is designed to help encourage hand hygiene in children.

Its innovative design circulates twice as much air around the hands to improve drying times without increasing the power or noise level. This makes it quieter in use than most other fast hand dryers.

Its also one of the slimmest at only 100mm.
h345 x w350 x d100 (mm)
230V, 50Hz
8.3A @ 230V
1900W
approx 17 seconds
8000rpm
71dB
3 years *
IP21
5.4kg
Puff the Magic Dryer Specifications:

Dimensions :
Electricity Supply :
Current Consumption :
Nominal Output :
Drying Time :
Motor Speed :
Noise Level :
Warranty :
IP Rating :
Weight :
Puff the Magic Dryer
* Attractive design to encourage hand hygiene in children

* Complete with back-board surround design

* Automatic 'no-touch' operation

* Quiet 71dB operation

* Fast drying time with 2 balanced centrifugal fan motors

* Slimline design

* Robust high-gloss, epoxy-covered, zinc-plated steel

* 3 year warranty
Downloads : (open in a new window)

»
Technical Specifications PDF Document '.pdf'

2.8