QuickDri UVC 9000 MG88
Fumagalli MG88 QuickDri UVC 9000 Sterilising Hand Dryer
What is UVC?

Short-wave ultraviolet radiation, in the 'C' band ( 200-280 nanometers) has been used for over 100 years. UV-C (UVC) is also referred to as UVGI (ultraviolet germicidal irradiation) UVC penetrates the outer structure of the cell and alters the DNA molecule, preventing replication, and causing cell death



The tests and relevant microbiologic reports are available on request, carried out by a leading independent Italian laboratory.


Manufactured in Italy from;
Carbon steel - white glazed hand dryers, with photocell available also in bright - MG88A(l)UVC - or brushed - MG88A(o)UVC - stainless steel.
The QuickDri 9000 UVC high speed hand dryer has an anti-bacterial UVC sterilising tube which kills 99.9% of bacteria, incl. Streptococcus and e-coli.

Essential where hygiene is of paramount importance such as the medical sector and food preparation areas i.e. Doctors Surgeries, Dental Surgeries, Hospitals, Clinics, Restaurants, Hotels, Canteens, Pubs and Schools etc.

The UV lamp which remains active in the machine 24/7 is guaranteed for 5,000 continuous hours.
QuickDri 9000 UVC Specifications:

Dimensions :
Weight :
Electricity Supply :
Current Consumption :
Nominal Output :
Drying Time :
Motor Speed :
Air Speed :
Air Volume :
Noise Level :
Standby Power :
Electrical Protection :
Warranty :

270h x 292w x 210d mm
8-8.5kg
220-240V, 50Hz
10A @ 230V
2250W
approx 15-20 seconds
approx 6680 rpm
64 mph
4.3m3/min
74dB
4 W
IP 21 Class I (IP23 with fixed nozzle)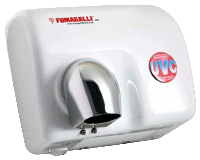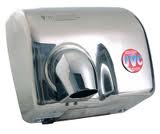 AHD-QDUVC / QDUVW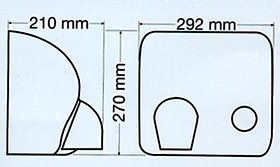 The QuickDri UVC hand dryer is a warm-air hand dryer with an integrated internal anti-bacterial UltraViolet device which disinfects of the air inside the hand dryer and exiting from the nozzle.


The QuickDri UVC hand dryer has life expectancy of over 15 years and is ideal for maximum hygiene situations : studied in particular for medical/hospital surroundings and food sector


The UV lamp, which remains active inside the dryer 24/7, kills at 100% any microbial contamination during the drying process and continually inside the machine


2.3